Post by Wolfpac on Jul 14, 2019 18:13:42 GMT
Now, seeing as Virtual Pro Wrestling 2 has been translated (not completely) into English, i'm sure the desire to create saves has probably increased. There's one issue that prevents people from making saves though. Moveset replacements.
There is a way to permanently change the movesets though, and it's with ROM hacking. What this means however is that the default moveset of whoever you replace will be lost. So it's advised that you create a backup of your ROM before you begin.
I'll show you step by step as to how you can replace an entire moveset or just how to do a simple move change.
First off you'll need to download a tool called Offsetter and you'll also need the default base movesets. For Offsetter to work, you need to download Python. A simple Google search should be able to point you in the right direction.
Offsetter
(Credit: Zoinkity)
Default VPW2 Movesets
1. Replacing a Shoot Fighter with either a normal Wrestler or a Hybrid Wrestler.
Now, you might be thinking how this is possible because Shoot Fighters have a shorter moveset than the rest of the wrestlers. While that is true, Offsetter however is able to import a longer moveset into the game and it'll adjust everything else accordingly so it doesn't f**k up the game.
This is quite simple to do. First of all extract Offsetter into any directory you want and to make things easier, extract the default movesets into the same directory.
Once you do that open up Offsetter and open up your ROM. I'll be using the translated version of the ROM in this guide.
You should see something like this.
Open up the "ID.txt" file in the "Movesets" folder. This basically tells you what file belongs to what wrestler. Each wrestler will have 2 files each. 1 for the Fighting Style/AI/Parameters and 1 for the actual moveset.
Now, pick a wrestler who's moveset you want to replace. To be on the safe side we'll also replace the fighting style too...just in case.
Let's replace Mark Kerr with Misawa's moveset and fighting style. Go to Mark Kerr's offset for the Fighting Style in Offsetter, which is 0x262232.
Double click it and click on "Import Binary File". Select Misawa's Fighting Style file (0001-styleAI.bin) and click on Open. Once you've done that it should have gone back the beginning of the file. Scroll back down to Mark Kerr's Fight Style at 0x262232 and it should look like this.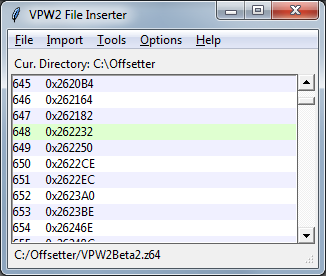 The offset underneath it is his moveset. So double click that and select "Import Binary File". Choose Misawa's moveset (0001-moveset.bin) and again click on Open. It should have gone back to the beginning again.
If ever in doubt as to if the file has been inserted or not, check the command prompt.
Now click on File -> Save New ROM. Save it as another file unless you really want to replace the existing file.
Open up your game and you should see that Mark Kerr is no longer a Shoot Fighter, but has the Fighting Style and Moves of Mitsuharu Misawa.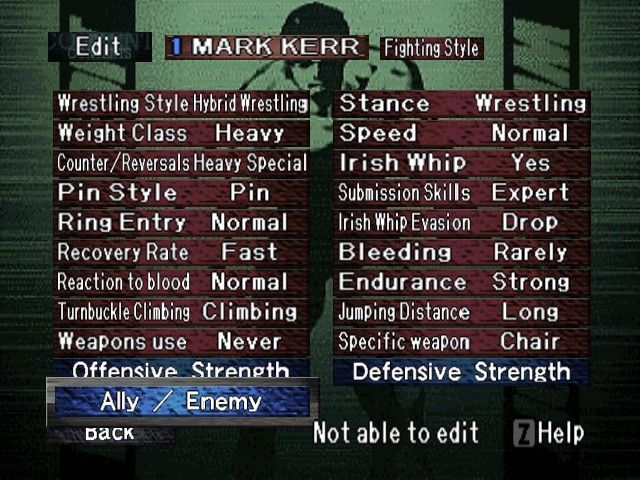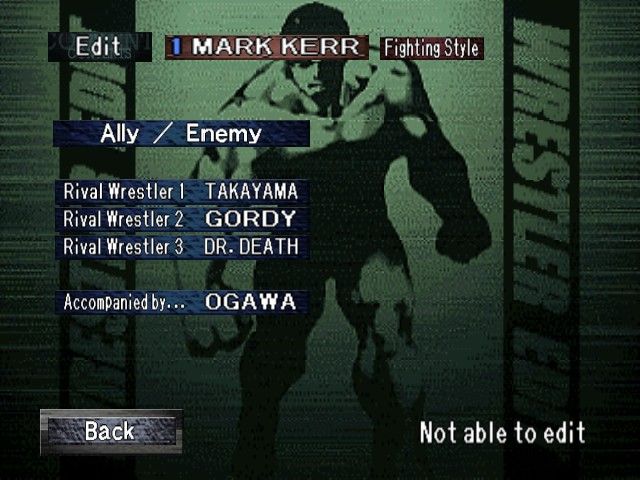 2. Change a move in a moveset
Let's take Mitsuharu Misawa as an example. Let's change his finisher to the Stone Cold Stunner.
We'll need the Edit All code which is.
D100A524 3082
8100A526 0000
D100A524 3082
8100A528 0000
D100A524 3082
8100A52A 0000
Credit: WldFb, AJ 187
Now we can edit everyone's moveset. Scroll down to the move you want to replace, in this case the front special move. Change the Tiger Driver '91 to the Stone Cold Stunner. Now save the changes.
Start a match with Misawa as P1. Dump the data between 800980D4-800981BA. If you're using Nemu64 (Which I advise you use), make sure the format you dump the data in is "RAW - Big endian (n64)".
Once you've dumped the data, open it up with a Hex Editor and also open up Misawa's unmodified moveset file (0001-moveset.bin). Compare the modified moveset with the original and make the necessary changes, or better yet, select the same size of data and copy and paste it over the moveset.bin file for the wrestler.
Looking at Misawa's moveset it is 0xB4 in length.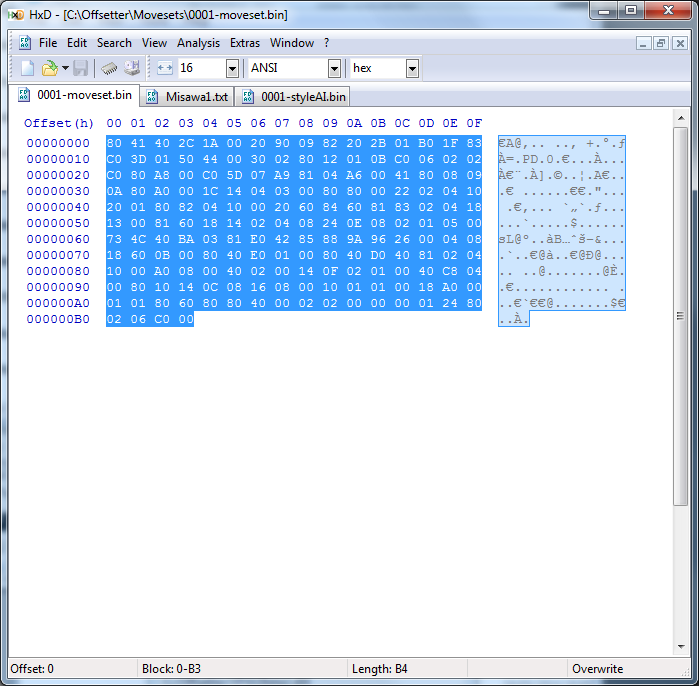 Select the same size of data from the data you just dumped from the game. The last 0x1E bytes of data is the Fighting Style. If you change the Fighting Style/AI/Parameters, then you'll need the last 0x1E bytes of data too.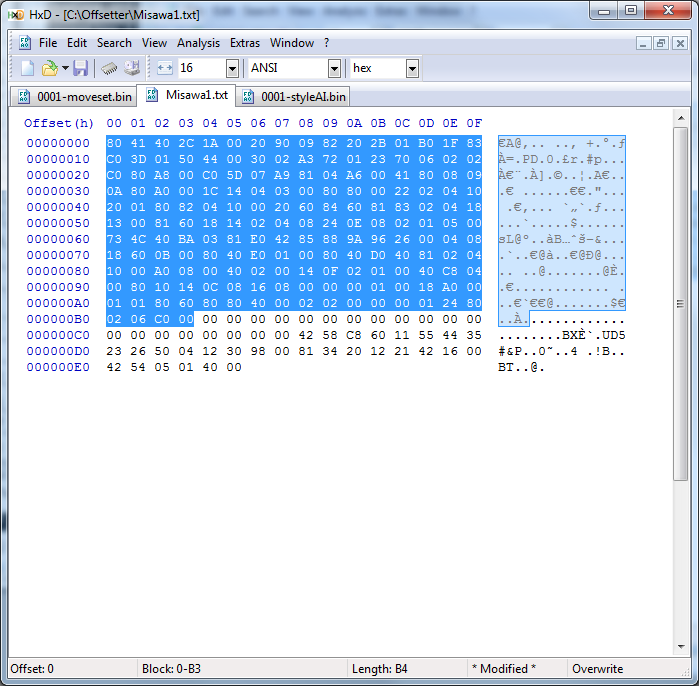 So after you've copy and pasted over the modified data, save the file (Save it as a different file just in case).
Open up Offsetter and scroll down to the address where Misawa's moveset is, which is 0x264922. Double click it and click on "Import Binary File". Select the modified .bin file, click Open and it should have successfully imported. Now save the ROM.
Now you've just changed Misawa's finisher to the Stone Cold Stunner and it should be permanent.
Load up the ROM and go to Edit Mode and check Misawa's moveset. We can now see that Misawa's finisher is now the Stone Cold Stunner.
If you don't want to use the edit all code, just copy the moveset over a CAW, make the changes and use the same method.
You can also directly modify the moveset directly in the ROM, which can be easier, but there are some Wrestlers, particularly Shoot Fighters whose movesets seem to be compressed and cannot be done that way, so this method might be better.
S.K. Stylez